Electro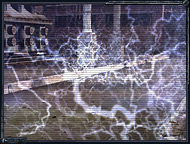 Electro
At the daytime, the Electro anomaly can be easily spotted by the bluish mist, while in the night use any type of detector, or, alternatively, hurl metal objects into the anomaly to reveal.
Usually the anomaly is roughly 10 meters in diameter, accumulating static electricity in vast quantities. When triggered, the anomaly bursts out in dozens of miniature lightnings, causing electric shock, nearly always lethal to all the living creatures.
Forms six types of artifact: Sparkler, Flash, Moonlight, Battery, Shell and Snowflake.