Burer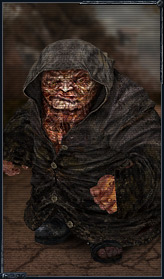 Burer
The result of secret service genetic experiments on criminals under the program of human telekinetic abilities development. A humanoid-type creature of hypertrophied complexion clad in shreds of shabby overalls. Afraid of bright light, therefore dwells in dark and gloomy undergrounds and caves only. Feeds on dead bodies.
Uses gravitation to attack: in close combat forces the enemy back, while capable of levitating heavy objects from the distance. Exhausts its prey, can hit weapons off your hands using directional gravity impulse.
When fighting a Burer, be cautious and don't let him wear you out. Keep moving and shoot him in the head, while at a distance.