Black Kite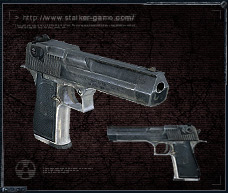 Black Kite
A real "pocket cannon". Big, heavy gun of high destruction potential. It was developed as special weapon for hunting big game and also for some types of sport shooting on steel silhouette targets at the distance of 50 meters and more.
Its high price, big weight and size, so as the possibility to fit two another guns into every named parameter, make this gun barely popular in the Zone.
Not good for hidden carrying.
Price: 3400 р.
Accuracy: 0,13
Usability: 1,1
Damage: 0,5
Rate of fire: 145
Max bullets: 8